Edoardo Pierini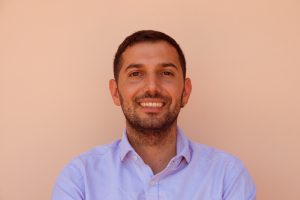 Edoardo Pierini is currently a Ph.D. student in the history of medicine at the Institut Éthique Histoire Humanités of the University of Geneva (since September 2018).
He studied history at the University of Roma Tre (B.A. in 2016 and M.A. in 2017), and at the University of Paris VII – Diderot (M.A 2018).
Before starting his career as a historian, he graduated in Physiotherapy in Rome at the University La Sapienza (2013), and worked in the rehabilitation of Parkinson's Disease.
Experience as a Santorio Fellow
It was a great honor to receive the Santorio Fellowship, which allowed me to participate in the 2021 CSMBR  International Summer School Latitudes of the Body: Human-Based Measurement and its Contexts, from Leonardo to Newton (1400-1700).
My overall impression of the CSMBR Summer School was very positive. I appreciated both the engaging schedule and the varied selection of speakers, a balanced mixture of senior academics and junior researchers.  The presentations were all very interesting and helped broaden and deepen my understanding of various concepts of Early Modern medical history and philosophy.
Also, this Summer School provided me the opportunity to engage with scholars whose research interests intersect with mine, and was indeed an extraordinary opportunity for me to enhance my intellectual profile as a scholar working at the interface of pharmacological and medical history. It gave me the chance to operate and interact within an inspiring environment and to further develop my ideas with experts in the field of the medical history. The collaboration with researchers from several countries also broadened my comprehension of the peculiarities of the production of medical knowledge all around Europe.
Edoardo Pierini