Yijie Huang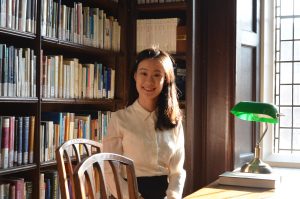 Yijie is a PhD student in the Department of History and Philosophy of Science, University of Cambridge researching early modern English medicine and natural philosophy, while she also pays attention to the cross-cultural medical exchange between East Asia and Europe during the seventeenth century.
Her doctoral project explores knowledge and practice of taking the pulse in late seventeenth-century English medicine and the fledging innovation of pulse counting in this period.
Through the lens of early modern pulse diagnosis, she aims at exploring how changes of medical ideas altered the approaches of depicting and examining the body, and how practice framed its own reason when navigating between medical theories old and new.
Experience as a Santorio Fellow
The 2021 CSMBR summer school, Latitudes of the Body: Human-Based Measurement and Its Contexts, from Leonardo to Newton (1400-1700), has been a fantastic experience. I am very grateful to Dr Fabrizio Bigotti and the whole CSMBR team for making this summer school not only happen but shine amid the serious challenge that the pandemic has unremittingly put upon us. The final consequence that we could only see and communicate with each other in the limited (but also unlimited) video chatrooms may itself stand as a metaphor of the topic we have worked on during these brainstorming days: we shape the knowledge of the world we live in from the insights into our existence and being, and our intelligence derives from what we distill and create out of this macrocosm-microcosm analogy. We learn from the greatness of our bodies as the canon of the universe. We also learn from the limitedness of our bodies as the canon of the universe.
As an early-career historian of medicine, I am honoured to be awarded a Santorio Fellowship considering the extremely intense competition this year. The summer school offers me an exciting chance to have my work known and commented by Prof Vivian Nutton, Prof Michael Stolberg, Dr Fabrizio Bigotti, whose extraordinary scholarships I have read over and again from the very early stage of my own research. Neither have I imagined that I would have met and discussed my paper with Prof Martin Kemp, which, nevertheless, becomes true thanks to this summer school. Indeed, all the talks from our incredible speakers and delegates have inspired me enormously. I bring to this intellectual feast only my crude study of the late seventeenth-century English pulse, but gain from it provocative knowledge of Renaissance humours, illnesses, bodyweight, fine arts, music, therapies, and so forth. One of the most impressive lessons I learn from them is that the Renaissance origin of measurement, standardisation, and canon, which are often taken as the core of modern objectivity, exhibited profound reliance on subjective experience as well as socio-cultural climate. In this sense, the history of empiricism and the dynamics between subjectivity and objectivity may call for new elements, propositions, and perspectives.
I will try to integrate the inspirations from this summer school into my doctoral thesis and future research, and I wish more scholars, especially early-career researchers like me, will join in this programme. Please enjoy the swift, vehement, and frequent pulsation of your body and mind here!
Yijie Huang